HKC dedicates in the automotive market and continuously provides with the best matching service to auto-customers for approval and confidence.
Success Story
-- Industry:Automotive
-- Application:ECU
-- Part Number:9SL80000D1QE04001-0
-- Quantity:1K /Month
-- Customer Target:High reliability and stability
-- Actual Usage:Stable clock signal source.
-- Sales Activity:HKC has been the approved vendor by high quality, sales and technical support.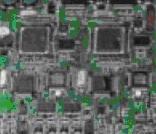 Please contact us for any inquiries, thank you. E-mail: sales@quadrep.com.tw